My Favorite Sewing Scissors
Anybody who sews, knows how important good sewing scissors are! They can make or break a sewing project. Today, I'm going to share with you 5 of my favorite sewing scissors. They each have a special job – something specific that they are very good at.
Most sewists are very protective of their fabric scissors! We all know what happens when our good fabric scissors are used to cut paper! (Quick tip – Don't cut batting with your good fabric scissors either, it will dull them just like paper will.)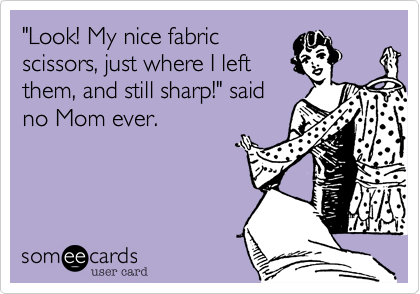 My Favorite Sewing Scissors
I've created a quick video that shows each of my favorite scissors, and why I like each one. The scissors are also listed below the video.
/
This post contains some affiliate links for your convenience.

Click here to read my full disclosure policy.
I hope you've enjoyed this look at my favorite sewing scissors!
What are your favorite sewing scissors to use for your sewing projects?
If you liked this sewing tutorial, you'll like these sewing tutorials too:
My Top 10 Favorite Sewing Notions
How To Hand-Sew A Pillow Closed
You might also enjoy this great Craftsy class! (affiliate link)